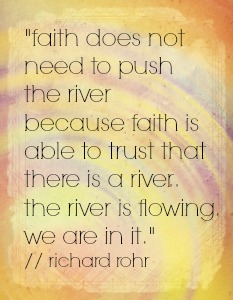 * this post is part of the january synchroblog, which is centered on new beginnings. i have loved partaking in the practice of "one word" for the past few years; even though i am one of those people who starts out strong and loses steam by about april, i appreciate the intention and love hearing other people's words and hope for new beginnings, too!  at the bottom of this post is a link list of other bloggers writing on the same topic.
//
last year i was part of a life-coaching group to gain some traction in a few areas of my life, and it was so helpful in more ways than i probably even know.   one part that i loved was that we started with an image that reflected our hope for the year.
not a word, an image.
i had done words in different ways for years before but never an image.
i thought about it for a long time and it was interesting what came–a river.  i am a water person and my go-to imagery is usually the beach or a lake, but i couldn't shake that the image that i needed for 2013 was a river.
rivers describe my life much more than a beach or a lake.  always moving.  got to roll with it. resisting it won't work. moments of rest & stillness.  leaning into it and going with the flow. strong.  intentional. peaceful in a weird, paradoxical way.
phrases like "you can't push the river" and "peace like a river attendeth my way" and "i will extend peace to her like a river" and yes, even the creedence clearwater song "rolling like the river" lingered all year long.  i printed this picture and kept the imagery in front of me as best i could.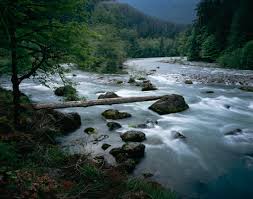 recently a friend of mine who is a firefighter and water rescue diver told me three interesting things about rivers from their training–they are powerful, they are relentless, and they are predictable.  i have been meditating on those since he shared them, especially the "predictable" one because life doesn't feel very predictable on the surface.  but when i take a little deeper look at it, there are parts of life that are known, that i can count on. it made me think of something a friend shared last month at our house of refuge. they are from a book called the five things we cannot change and the happiness we find by embracing them by david richo.
here are the 5 things:
1. everything changes and ends
2. things do not always go according to plan
3. life is not always fair
4. pain is a part of life
5. people are not loving and loyal all the time
these truths are easy to respond to with "of course!" but the reality is that i so often resist them in different ways. even though rivers are powerful & relentless, they are also predictable. and i can count on these realities of life to show up over and over again.
resisting them won't help, embracing them will.
so instead of picking a word for 2014 or even a new image for 2014, i decided my new beginning was to just stick with this one for a longer period of time because i think there's much more i need to learn from it in this wild year that lies ahead.
if you've got an image, i'd love to know what it is!
peace, kathy
ps: on a totally different topic, i've got a post up at my friend phil shepherd's blog on patheos called dignified dialogue. i've written about that here before, but this is a little summary of not just the 5 guidelines but some other questions we can explore in these hard conversations, too.
//
other bloggers writing this month about new beginnings: