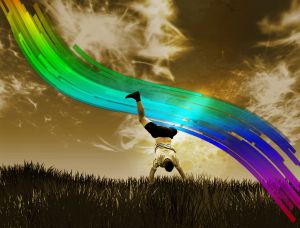 "they suddenly recognize that God is a living, personal presence, not a piece of chiseled stone. and when God is personally present, a living Spirit, that old, constricting legislation is recognized as obsolete. we're free of it! all of us! nothing between us and God, our faces shining with the brightness of his face. and so we are transfigured much like the Messiah, our lives gradually becoming brighter and more beautiful as God enters our lives and we become like him." – 2 corinthians 3:16-18, the message
* * * * *
i hope you all have had a good holiday   for some who struggle with christmas, i know there's sometimes a sense of relief.  when some hanging-on-by-a-thread-through-the-holidays-friends left our house on tuesday night after christmas dinner, we high-fived and celebrated "you did it! you made it through christmas without completely tanking, yes!" amen. hallelujah. yeah, it was a rough one for many and a smooth one for many others. with all the christmas festivities over with i'm grateful for a little break where i can hang out with my kids & watch a lot of movies & unplug. i also like to use this time in between christmas & new years to look back at the past year and think about the one ahead. i gave up new years resolutions a long time ago because they always make me feel bad about myself after i break them less than a week later.  but i do like to recall where i've been and dream for the year i'm about to enter.
i've always liked considering things through the template of Jesus' first greatest commandment–loving God, others, ourselves.  my #1 hope each year for the past chunk of years is that somehow i'd be free-er than the year before.
free-er in my relationship with God, with others, with myself.  they are all tangled up together, those three categories, and each one greatly influences the other.
i never want to be the same at the end of a year when it comes to my relationship with God, with others, with myself.
i want to be free-er than the year before in my faith.
free-er than the year before when it comes to my relationships & friendships & the ways-i-love-others.
free-er  than the year before when it comes to how i feel about myself.
that doesn't mean there aren't setbacks & pitfalls & all kinds of things that didn't go the way i had hoped in these areas.  life is so not linear.  i'm still working on stuff in my life that i have been working on for an awful long time.  and that's okay.  we all have thorns in our sides, patterns of relating & living & being that help remind us of our humanness, our weakness, our need for God.
but what becoming free-er does mean is that i'm intentionally moving away from things that hinder & shackle & trap & paralyze & rob & steal & are toxic and forward toward more presence & life & love & justice & peace & mercy & grace.  one small baby step at a time.  one beautiful weird hard day at a time.  one month at a time. one year at a time.
that's the question (well three questions) to consider on this last formation friday of 2012:
how have we become more free in our relationship with God this year?
how have we become more free in our relationship with others?
how have we become more free in our relationship with ourselves?
i'll go because it's always so good for me to celebrate any bit of freedom i possibly can.
for me, 2012 was a year of focusing less on what i didn't believe anymore and more on what i still did. oh, that brought a lot of freedom.  i feel less afraid of the long list of things i've lost when it comes to faith & much more secure in the few most important things that still remain.
when it comes to my relationship with others in 2012, the #1 thing i have been working on is continuing to break free from being responsible for things that aren't mine to be responsible for. as an adult child of an alcoholic and a pretty masterful codependent, that is not an easy task, but this year things felt far different than the one before.  i more intentionally practiced taking my controlling paws off of thing i couldn't control anyway and let others make their own choices. the world kept spinning & i was far less tired.
in my relationship with myself, well, let's just say i have been nicer to me.  less harsh. less critical.  more apt to laugh at my flaws.  more willing to accept my limitations.  more clear about my humanness & need for God's help.  i didn't spend too much time in the flogging machine in 2012, and that feels like a gift from above.  seriously.
i hope you can look back and see shifts in these 3 areas in 2012 and how you've become free-er in your relationship with God, with others, with yourself–no matter how big or small.  they are uniquely ours, worth celebrating and remembering!
here's to greater and greater freedom in the new year ahead.  love, kathy
* * * * *
ps:  in some previous years i have done all kinds of different end of year exercises. if you want to try some of them, here they are (they have templates inside of them):