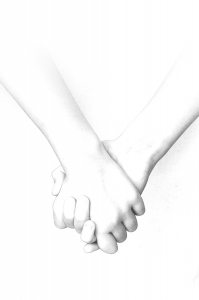 my husband jose is a pro-bono lawyer for domestic violence victims at a christian legal aid clinic in denver. his email is "jreadvocate" and whenever i email him (which is a lot; yes, we are those couples who sit across the living room from each other sending emails back and forth!) i think of how much i love that word.
advocate.
the definition is:  a person who speaks or writes in support or defense of a person or cause.
when it comes to all-things-church i believe we need to make advocates not buildings.  we are supposed to use our time, energy, and resources to stand on behalf of those who are disempowered & marginalized, not to be their voice for them but to help them find theirs.
it's also true, though, that in all of our advocating for others we also need to remember that we also have an advocate.  an ever-present-one.  an-always-there-to-stand-beside-us-and-fight-for-us one.  the Holy Spirit.  working in our lives to remind us we're not alone.
in john 14, as Jesus prepares to die, he reminds the disciples that even though he's leaving earth, he's not ditching them.  in fact, it's just the opposite.  he says:
"and i will ask the Father, and he will give you another Advocate, who will never leave you. he is the Holy Spirit, who leads into all truth. the world cannot receive him, because it isn't looking for him and doesn't recognize him. but you know him, because he lives with you now and later will be in you. no, i will not abandon you as orphans—i will come to you" (v. 16-18).
the greek word for advocate here is parakletos, which means summoned, called to one's side or aid.  it can also mean comforter, helper, aid, assistant, encourager.  
one of the deepest most damaging messages from my history is that i am on my own somehow. that when the rubber meets the road i have to take care of myself. that i can never fully rely on anyone to take care of me or fight for me in the way i have often longed for.  although the feeling feels true, now, after a whole helluva lot of personal work over the years, i have far too much data that tells me the opposite.
i am not alone or on my own.
i have had an Advocate who has fought for me.
in all kinds of countless ways, God & others have been and are alongside me even though i often couldn't see it in the moment.
part of my healing process has been to notice this reality here, now, and more quickly.  to tune toward God & the tangible love of others  instead of remaining-so-sure-that-i-am-alone that i completely miss it.
for formation friday, i thought it would be good to reflect on this powerful healing word–advocate.  i know many of you are amazing advocates for others, doing all kinds of beautiful work on behalf of the poor, marginalized, and hurting.
but i wonder how many of you often don't feel like anyone is actually advocating for you?
it's a lonely feeling.
and so today i am hoping we can turn our hearts & eyes toward noticing how God & others may be advocating for us, standing on our behalf, coming alongside us to encourage us, believing in us, fighting for us, bringing light & shelter & hope to help sustain us. 
maybe some of you are like me and have a hard time seeing or feeling it in the moment.  it's why stopping to listen, to reflect is so important.  intention helps us notice and form better data.
i also respect that some of these formation friday exercises might be annoying to those who are really struggling with God right now.  you're not one prayer prompt away from feeling re-connected to him.  that's okay. these might help open some doors or can just be tucked away for another season. my philosophy is always don't force it but give it a try and stop if you need to.
here are a few prayer prompts to consider:
what are some words that you'd use to describe an advocate?  
who in your life has been one of those tangible in-the-flesh people for you?  what did they do or say that sustained and encouraged you? 
think of your present circumstances, what's going on in your life right now.  how do you need an advocate?   " i really need help with ….."
now, think of ways God might be advocating for you, too–subtly or directly.  "God, i feel you saying ________, i hear you saying __________, i see you reminding me _________"
thank you, i really need an advocate right now.
here's mine:
advocate:  cheerleader. friend.  ally.  defender.  willing-to-take-a-hit-for-me. has my back.
my advocates are friends & family who have defended me, encouraged me, listened to me, prayed for me, lifted my head, called out my voice, stood-right-next-to-me-so-i-wouldn't-fall, stuck with me through thick & thin.
i really need help with staying the course & not becoming discouraged. 
God, i feel you saying "i am with you, before you and behind you and underneath you and above you. you will not sink." 
i hear you saying "let go. there's solid ground underneath you."
i see you reminding me "yeah, i've got some really amazing companions on this journey.  cheerleaders, friends, defenders, allies, people-who-have-my-back-no-matter-what."
thank you, i really need an advocate right now. 
yeah, i love the word advocate.  have a great weekend.  peace, kathy